USF has posted an article about a recent graduate who will be participating in this year's JET Program!
Read the article here: http://global.usf.edu/wordpress/?p=3690
JET alumni around the state can meet with this year's new group of kouhai after their Q&A sessions! Come, eat, drink, answer questions, and talk about the good ole days! Everyone will have to cover their own costs of food and drink, but this is a great way to reconnect to JET and get to knew the new generation of JETs!
Please RSVP for any and all sessions you might like to attend:
ORLANDO

Date: June 18
Time: 8:00n PM
Where: Shin Sushi (803 N. Orange Avenue Orlando, FL 32801)
RSVP: Alison, secretary@floridajetaa.org
TAMPA
Date: June 22
Time: after Q&A; email for precise time
Where: Liang's Bistro (17515 Bruce B Downs Blvd  Tampa, FL 33647)
RSVP: John, tampa@floridajetaa.org
MIAMI

Date: June 28

Time: 7:30 PM
Where: Mi-kan Japanese restaurant (80 SW 8th Street, 1st Floor; same building as consulate)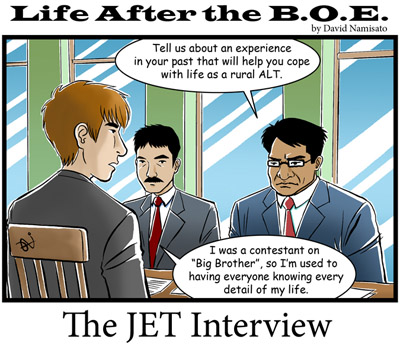 The Miami JET interviews are scheduled to take place from February 19-22 and 25. The JET Program office is looking for JET alumni to work as greeters for full-day shifts during these days. Job duties will largely entail checking in interviewees, collecting paperwork, and answering questions/sharing stories with prospective JETs. Lunch, parking costs, and a $50 remuneration are included. JET alumni reapplying for participation in the 2013 year are not eligible to volunteer.
To sign up, please email jet@mi.mofa.go.jp.
It's time for the new JET Q&As and JETAA meetups afterwards!  Please come out to show your support and share your wisdom with your new kouhai!
Gainesville-
   Date: June 1
   Location: (currently no post-Q&A JETAA meetup planned)
RSVP: gainesville@floridajetaa.org
Miami –
     Date: June 15
Time: from 7:30 PM
     Location: Mi-kan Japanese Restaurant, 80 SW 8th St. 1st Floor, Miami, FL 33130 (same building as the consulate)
  RSVP: culture@cgjmia.org
Tampa –
  Date: June 16
     Time: from 6:30 PM
     Location: Chili's on Dale Mabry Ave one block south of Columbus Dr. 2903 N. Dale Mabry Hwy, Tampa, FL 33607;
followed by Tampa Karaoke, 1220 S Dale Mabry Hwy Tampa, FL 33629
     RSVP: tampa@floridajetaa.org
Earlier this week, announcements went out to 2012 JETs from Miami!
Congratulations, and welcome aboard!
There will be further announcements later this summer about get-togethers and opportunities for JET alumni to meet and greet their new kouhai!
The link to the application is located here: http://www.us.emb-japan.go.jp/JET/index.html*
Application deadline is 5:30 PM December 2, 2011 (this is the date by when the full application packet must arrive in the Washington, DC JET Program office).
*Note: For compatibility issues, it is best to fill out the application with a browser other than Firefox.
Company: JET Program
Company URL: http://www.us.emb-japan.go.jp/JET/
Location: Japan
Contact Person: JET Program Coordinator (Miami) Email: culture@cgjmia.org
Job Title: Assistant Language Teacher (ALT) or Coordinator for International Relations (CIR)
Job url: http://www.miami.us.emb-japan.go.jp/en/jetprogram.html
Salary: ¥3,360,000-¥3,960,000 (before tax)
Deadline: December 2 (note: approximate)
Job Description:
ALT: Assistant Language Teachers (ALT) account for the highest percentage of JETs. ALTs work in elementary, junior high, or high schools, and sometimes also visit special needs or technical schools. ALTs support Japanese teachers in the classroom, and their duties largely consist of creating games, tests, and worksheets, as well as finding creative ways to promote English proficiency and intercultural learning.
CIR: Coordinators for International Relations (CIR) are required to have an advanced level of Japanese proficiency, and often work in local government offices as liaisons between Japan and other countries. CIR responsibilities vary from position to position, but often include translation, working with international envoys and exchange groups, and occasionally teaching English.